Triathlon Anatomy Mark Klion Troy Jacobson Exercises & anatomical illustrations
See what it takes to maximize multisport strength, power, speed, and endurance. Triathlon Anatomy will show you how to improve your performance by increasing muscular strength and optimizing the efficiency of every movement.

Triathlon Anatomy features 82 of the most effective multisport exercises with step-by-step descriptions and full-color anatomical illustrations highlighting the muscles in action. But you'll see much more than the exercises—you'll also see their results.

Triathlon Anatomy places you at the starting line and into the throes of competition by fundamentally linking each exercise to multisport performance. You'll see how to strengthen muscles and increase stamina for running across various terrains, cycling steep inclines, and swimming in open water.

You'll learn how to modify exercises to target specific areas, reduce muscle tension, and minimize common injuries. Best of all, you'll learn how to put it all together to develop a training program based on your individual needs and goals.

Whether you're training for your first triathlon or preparing for your sixth Ironman, Triathlon Anatomy will ensure you're ready to deliver your personal best.

Chapter 1 The Triathlete in Motion
Chapter 2 Cardio Training
Chapter 3 Creating a Customized Training Plan
Chapter 4 Arms
Chapter 5 Shoulders
Chapter 6 Chest
Chapter 7 Core
Chapter 8 Back and Neck
Chapter 9 Legs
Chapter 10 Whole Body Training
Chapter 11 Injury Prevention

Exercise Finder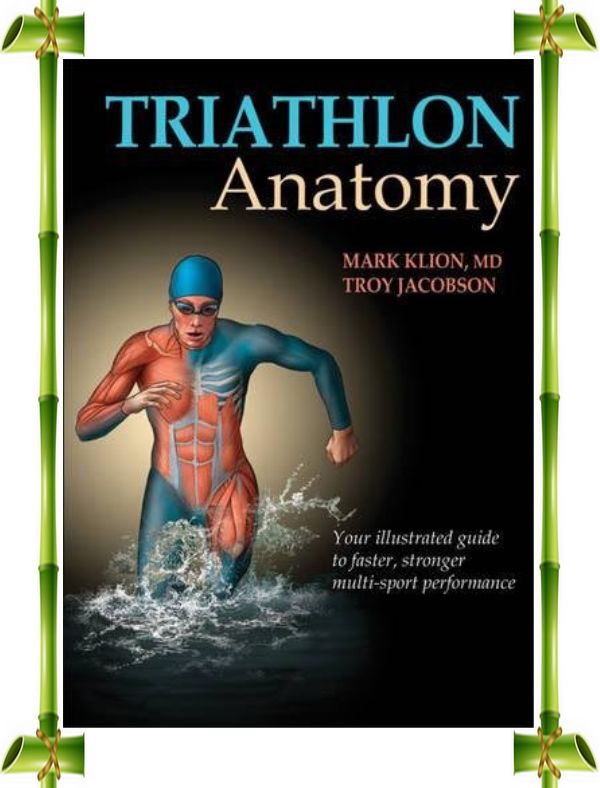 Mark Klion, MD, is a board-certified orthopedic surgeon and sports medicine specialist. After receiving a bachelor's degree from St. Lawrence University in upstate New York, he earned his medical degree from the Mount Sinai School of Medicine in New York City. He completed his residency in orthopedic surgery at Mount Sinai Hospital. He then completed a sports medicine fellowship at the University of Chicago. During his fellowship he specialized in arthroscopic surgery and reconstructive knee and shoulder surgery. He is a clinical instructor at the Mount Sinai School of Medicine and a member of their shoulder and sports medicine service. He serves as an educator for the medical school and the department of orthopedic surgery. He is also the director of orthopedics at St. Barnabas Hospital in New York. He performs the newest techniques for cartilage repair, regeneration, and meniscal transplantation. Dr. Klion has extensive experience with arthroscopic rotator cuff repairs and shoulder stabilization procedures.

Dr. Klion is also an avid triathlete and marathon runner. He has completed 10 Ironman triathlons, including Hawaii Ironmans in 2000 and 2001. He has completed 15 marathons and several ultradistance races. He is also the creator of the DVD series BodyworksMD, a physician guided physical therapy rehabilitation program. He serves as the medical co directo r for the New York City Triathlon and Toughman Half Ironman and is the orthopedic consultant for the Triathlon Academy and Foundation bicycle team.

Troy Jacobson has been a leader in the field of triathlon coaching since 1992. He is the owner of Lifesports, Inc., an endurance multisport coaching company, and is recognized as a pioneer in developing and marketing online coaching services. He is the innovator and driving force behind the popular endurance sport training DVDs Spinervals Cycling, and founded the National Triathlon Academy in 2000. He created Train Right software, an intuitive coaching program chosen as the official software of Tri-Fed USA, in the mid 1990's.

When Tri-Fed became USA Triathlon, Jacobson became a member of the inaugural USA Triathlon coaching committee. A personal coach to athletes of all abilities from age groupers to a former U.S. Olympian, Jacobson served as The Official Coach of IRONMAN, 2010 through 2012, and held the position of head triathlon coach at Life Time Fitness, Inc. a publicly traded national health club chain.

Jacobson has been a competitive triathlete since 1988 and continues to compete at the elite masters level. In the 1990s he became a professional triathlete, winning several USA Triathlon Long Course National Championships and placing as high as 20th overall at the Ironman Triathlon World Championships. For more information, visit his website at www.coachtroy.com.