The Swim Coaching Bible
The Swim Coaching Bible, Volume II, presents the wisdom of 27 top collegiate and high school coaches from around the world, who cover every key to building a successful swim program. With experience coaching world-record holders and Olympic champions, each contributor addresses a topic in which they have expertise and shares successful coaching experiences with readers. These world-renowned coaches are among the extensive lineup of contributors: Bob Bowman, coach of Michael Phelps Vern Gambetta, performance training consultant to a variety of professional and amateur teams and swimming clubs Brett Hawke, 2009 NCAA co-coach of the year in swimming John Leonard, executive director of the American Swim Coaches Association Swimming for fitness and competition has experienced an 18 percent increase in overall participation since 2000. With coaching techniques constantly evolving, this all-new volume of The Swim Coaching Bible focuses on developments in the sport during the past 10 years, presenting the latest advances in training. The Swim Coaching Bible, Volume II, covers it all from establishing priorities and leading a program to its full potential to teaching stroke technique and training for optimal performance. Photos, charts, and graphs supplement the text for easy instruction. Coaches from various backgrounds, from age-group to collegiate ranks, as well as competitive and fitness swimmers will find The Swim Coaching Bible, Volume II, to be an ideal resource for improving performance.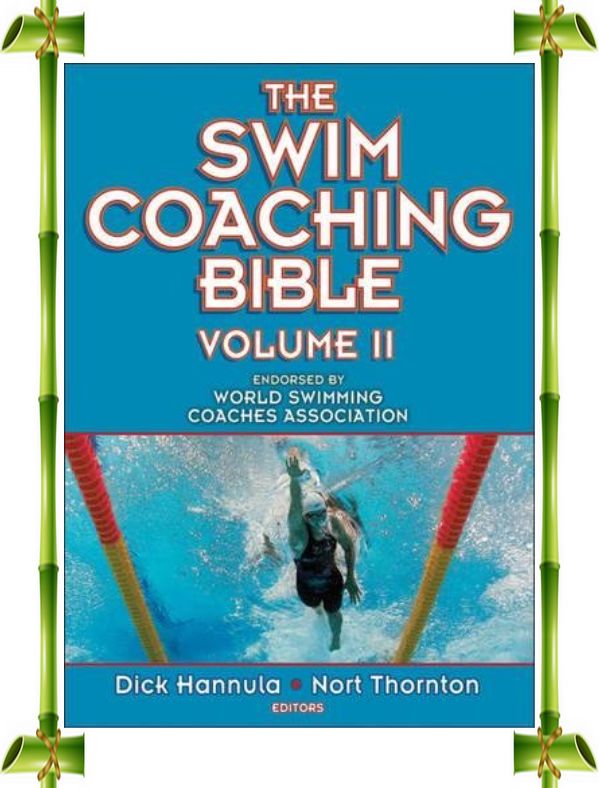 Dick Hannula is one of the winningest high school and club coaches in the history of swimming. Before retiring in 1993, he coached for 41 years 25 years at Wilson High School and 7 years at Lincoln High School, both in Tacoma, Washington. While at Wilson, he racked up the longest high school undefeated streak on record, winning 323 consecutive meets, including 24 consecutive boys Washington state high school swimming championships. Hannula founded Tacoma Swim Club and served as head coach for 42 years. He has coached four U.S. Olympic team swimmers, including Kaye Hall, Olympic- and world-record holder for the 100-meter backstroke. He has also coached numerous Olympic team members, including one Olympic gold medalist and one world record holder; World University Games swimmers; Pan American Games and World Championship swimmers; several U.S. national champions; and American record holders. Hannula served multiple terms as president of the American Swimming Coaches Association and is a former vice president of the World Swim Coaches Association. He has been inducted into several halls of fame, including the International Swimming Hall of Fame. Hannula resides in Tacoma, Washington. Nort Thornton served as head men s swimming coach at the University of California at Berkeley before retiring in 2007 after 33 years of service. His teams consistently finished in the top 10 nationally while Thornton was at the helm of Golden Bears swimming. Thornton coached Cal to two NCAA Championships and was named NCAA Coach of the Year in 1979 and 1980. An inductee into the International Swimming Hall of Fame, he has coached the U.S. national team at the Olympics and Pan American Games. Forty-eight of his athletes at Cal have gone on to compete in the Olympic Games, winning 14 gold, 10 silver, and 5 bronze medals. He has also served the swimming community as president of the American Swimming Coaches Association. Thornton continues to remain active on the Cal pool deck as a volunteer coach. His recruits, Milorad Cavic and Nathan Adrian, both earned medals at the 2008 Beijing Olympics. Adrian took home a gold medal as part of the United States 400-meter freestyle relay. Cavic won a silver medal in the 100-meter butterfly after being out-touched at the wall by Michael Phelps by one-hundredth of a second. Thornton resides in Moraga, California.