Swim faster, stronger, and more efficiently. Whether you are a dedicated open-water swimmer or a triathlete looking to conquer the sport's most challenging event, Open Water Swimming is your complete guide to improving your performance and decreasing your time.

In Open Water Swimming, renowned marathon swimmer, coach, and commentator Steven Munatones shares his insights and expertise on preparing, training, and competing in open-water events. From triathlon to marathon and all distances in between, you'll learn these tactics:
Refine your freestyle stroke to improve power, speed, effectiveness, and navigational IQ.
Pace yourself, and conserve energy, for faster finishes.
Train for every event with conditioning programs for short, Olympic, marathon, and triathlon distances.
Shave seconds off your time with professional tactics for starts, turns, feedings, transitions, and finishes.
Incorporate the racing strategies of the most successful swimmers in the sport.
Prepare physically and psychologically for the demands of competition.
From the art of efficient pack swimming to the best dryland and pool workouts for improving endurance, strength, and power, Open Water Swimming covers it all. Read it, refer to it, and rely on it for improved results and faster times! Contents
Chapter 1. The Open-Water Swimmer
Chapter 2. Overcoming the Elements
Chapter 3. Choosing Your Events
Chapter 4. The Open-Water Tool Kit
Chapter 5. Building a Faster Freestyle
Chapter 6. Preparing for Short-Distance Swims
Chapter 7. Preparing for Middle-Distance Swims
Chapter 8. Preparing for Marathon Swims
Chapter 9. Racing Tactics for Every Event
Chapter 10. Triathlon Training and Finishing Fast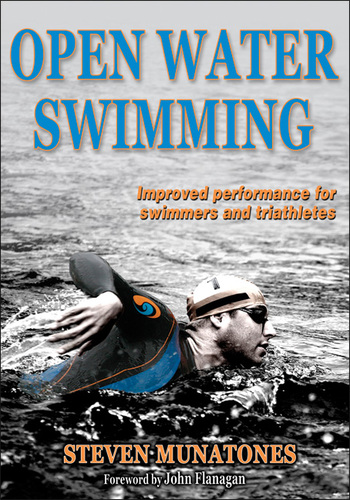 Steven Munatones
is a former professional marathon swimmer and a renowned coach. He has served as the national team coach at the 2001, 2003, 2005, and 2007 World Swimming Championships and the 2004 World Open Water Swimming Championships. In addition, he serves as editor in chief of the Daily News of Open Water Swimming and created the Open Water Swimming Dictionary.
Munatones manages the International Marathon Swimming Hall of Fame Web site and served as the NBC commentator for the men's and women's 10K marathon swim during the 2008 Beijing Olympics. During the Games he provided his expertise on the sport to a variety of media, including NBC-TV, Universal Sports, Wall Street Journal, National Public Radio, USA Today, New York Times, National Geographic magazine, and the Associated Press. His writing has appeared in Swimming World, Australia Swimming, and USMS Swimmer. He annually publishes the World's Top 100 Open Water Swims and America's Top 50 Open Water Swims. He also created the most popular Web sites on open-water swimming, including www.openwatersource.com and www.10Kswim.com.
He is also on the FINA Technical Open Water Swimming Committee that serves as the world's governing body of the sport and provides information and guidance to the Amateur Swimming Union of the Americas, USA Swimming, and U.S. Masters Swimming.