Vertical Jump Workout 5
Complete in straight sets with 2 minutes rest in between sets.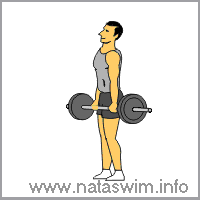 Power Cleans
Starting Position: Grab the barbell with your body is in a bentover stance with your back flat.
Explode up by pushing your feet through the floor keeping the bar close to your legs.
Keep your arms straight and forcefully extend your hips, knees, and ankles.
At the same time shrug your shoulders and at their highest point curl the bar up while forcing your hips forward and support the bar at chest level .
Return to starting position and repeat.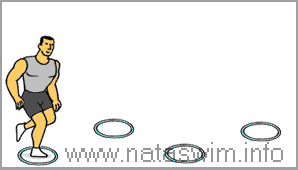 Bounding with Rings
1. Jog into the start of the drill for forward momentum.
2. After a few feet, forcefully push off with the left foot and bring the right leg forward. At same time swing left arm forward and land into the first ring, which is 3-4 feet out and to the left with the right foot.
3. Continue and repeat with other leg and arm into the second ring, which is now 3-4 feet up and to the right.
4. This exercise is an exaggerated running motion focusing on foot push-off and air time.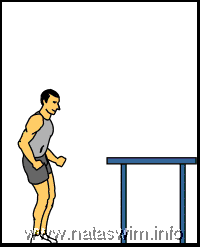 Jump Up to Box
1. Stand facing box with feet slightly wider than hip-width apart.
2. Lower body into a semi-squat position and jump up onto box. Feet should land softly on box.
3. Step back down (not jump back down) and repeat according to prescribed reps.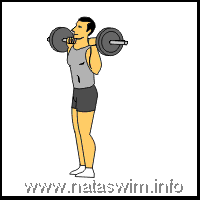 Rear Lunge (barbell)
1) Start position: Stand with feet hip width apart.
2) Step backward 2-3 feet and lower body forming a 90° bend at the front hip and knee. DO NOT allow front knee to extend past the big toe - may cause injury.
3) Pushing off front foot, return to start position. Continue with same leg or alternate as prescribed.
4) Remember to keep head and back upright in a neutral position. Shoulders and hips should remain squared at all times.
5) Watch for proper knee alignment - do not let front knee extend past big toe or deviate laterally or medially. Back knee should not come in contact with floor.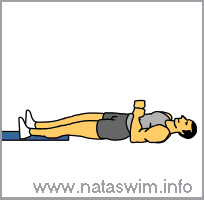 Slide board hamstring curls
1. Start by putting something on your shoes or place a towel on the slide board.
2. Place your heels on the slide board and lie on your back.
3. Proceed to press into the slide board and pull your feet towards your hips while raise your hips off the ground.
3. Return to the starting position and repeat for the desired repetitions.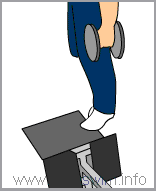 Single Leg DB Calf Raise
1) Start position: Stand with feet hip width apart or stand on the edge of a step on the ball of one foot with your heel hanging over edge. Toes should be pointing forward. Hold a dumbell in the hand on the same side.
2) Contract calf by pushing off ball of foot to raise heel up in air (standing on toes)
3) Lower heel and repeat.
4) Remember to keep knee slightly bent throughout movement to prevent any knee strain. You may have to hold on to a fixed stationary object for stability.
5. Repeat with the other leg after completing the prescribed repetitions.