Vertical Jump Workout 1
Complete in straight sets with 2 minutes rest in between sets.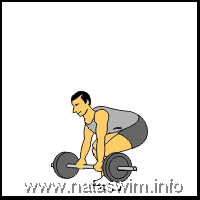 Power Clean to Full Squat
Starting Position: Grab the barbell with your body is in a bentover stance with your back flat.
Explode up by pushing your feet through the floor keeping the bar close to your legs.
Keep your arms straight and forcefully extend your hips, knees, and ankles.
At the same time shrug your shoulders and at their highest point curl the bar up while forcing your hips forward and support the bar at chest level.
Now go into a full squat and then stand back to an upright position.
Return to starting position and repeat.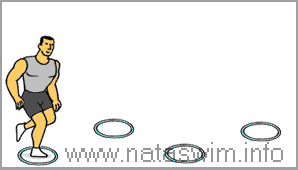 Bounding with Rings
1. Jog into the start of the drill for forward momentum.
2. After a few feet, forcefully push off with the left foot and bring the right leg forward. At same time swing left arm forward and land into the first ring, which is 3-4 feet out and to the left with the right foot.
3. Continue and repeat with other leg and arm into the second ring, which is now 3-4 feet up and to the right.
4. This exercise is an exaggerated running motion focusing on foot push-off and air time.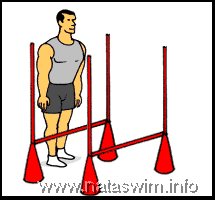 High Hurdle Jumps
1. Stand with feet slightly wider than hip width apart.
2. Perform a standing long jump over the first hurdle.
3. Upon landing, quickly jump over second hurdle. Remember to drive both arms forward to maximize jumps.
4. Hurdles should be near your maximum jump height.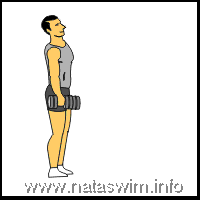 DB Lunge
1) Start position: Stand with feet hip width apart. Grasp DB's hang arms down at sides.
2) Step forward 2-3 feet forming a 90° bend at the front hip and knee. DO NOT allow front knee to extend past the big toe - may cause injury.
3) Pushing off front foot, return to start position. Continue with same leg or alternate as prescribed.
4) Remember to keep head and back upright in a neutral position. Shoulders and hips should remain squared at all times.
5) Watch for proper knee alignment - do not let front knee extend past big toe or deviate laterally or medially. Back knee should not come in contact with floor.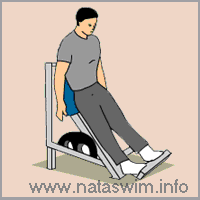 Donkey Calf Raise
1. Set yourself into the machine with your back against the pad. Hands should grab onto the handles and place feet so that the balls of your feet are the only thing on the foot plate.
2. Straighten your legs and remove safety stop. Keeping your legs semi straight bend just at the ankle joint.
3. Drop your heels towards the floor as far as they will go and then flex your calves to raise the heels up toward the ceiling.
4. Repeat for the prescribed number of repetitions.